Techbotism Audio Production Art Topics
Uneducated
"You stick to computers son, I'll stick with music"

I don't need to attriburte the quote. I was actively discouraged from doing what I do by my Family my Friends and the Education system. I was singled out in choir practice (a compulosory class in catholic school) and sent to the back of the class to do my homework because I could not sing ( he could have sent me to the piano).
Computers
It was not diagnosed with ADHD until I was in my forties. Music was a black art for the more intelligent, dependable richer kids. I had to choose between Metallica and Megadeth because I couldn't afford both (I chose Megadeth- a good decision) and then I got the Whitesnake album for Christmas.

I couldn't get passed the missing black notes and nobody could teach me. I needed absolute logic and I found solace in computers from '82 at the age of 12, hence the opening quote.
Cyberia
Then 1997 happened. I was 27 working as a web developer for an indie provider and selling cannabis from my perfectly situated house. As a dealer I was mixing with Djs and promoters as a developer i was downloading Games,Music and Software en masse from Usenet newsgroups.

I crowdsourced the various bits to make a basic music production rig for our Alpha Dj who turned out not to be interested. I had a cracked copy of cubase that allowed for midi sequencing and digital manipulation of audio. Virtual Instruments were not a thing yet.

As part of the crowdsourcing i gained a few friends and a more indepth look at techno and electro and even co-oorgasnised a few gigs but it was when my frend gave me a copy of Psyché Rock:  Pierre Henry, Michel Colombier –  the remixes by Fatboy Slim, William Orbit and Coldcut.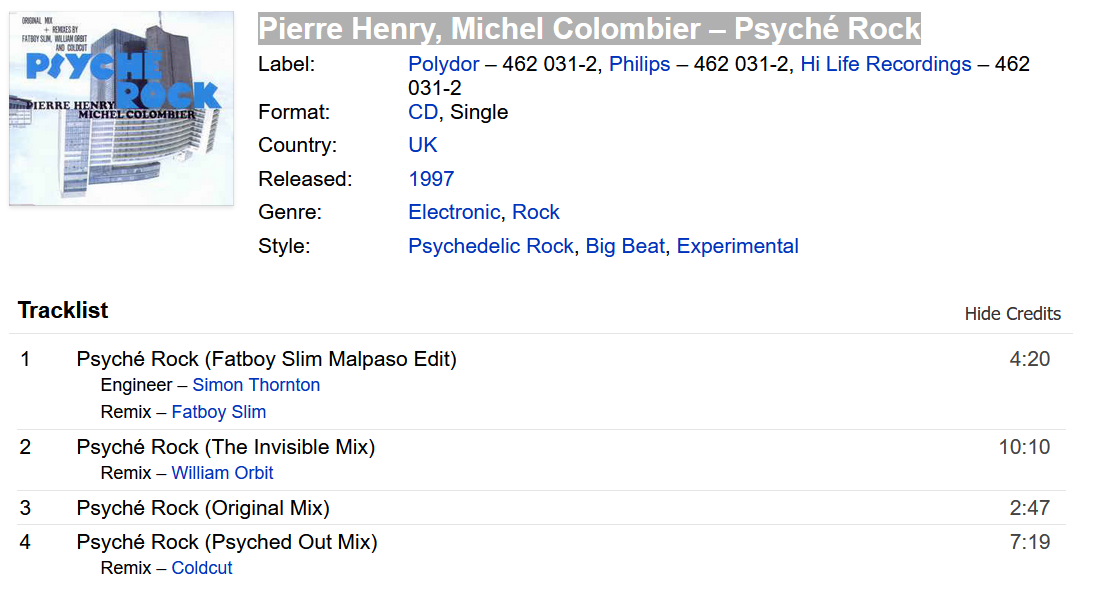 Rock n' Roll
This ticked all the right boxes. Electronic AND Rock, Pschedelic experimental . It was rock n roll I could relate to that 4 chords, maybe three.
It was experimental like Pink floyd I could relate to that. It qwas an epic 10 minutes or a straight to the point 2 minutes. I found out I Iove Fatboy Slim, ColdCut and BigBeat.
Then if there were any lingering doubts , The Amen Drum Sample AND




by Christopher Tyng.
Piracy
The Commodore 64 games to the Atari and MaGI DEMO SCENE i COLLECTED EM ALL
Over the years. I downloaded every VST and VSTi out there, I scoured newsgroups and blogs for old vynl rips and novelty sounds , I scraped ubuweb and the Archive. 

I couldn't do techno because that would mean NOT using have the plugins I had 'aqcuired' . Big beat and any genre that used samples would also allow me make my own sampled loops. Dj Shadow, dJ Spooky FSOL and the Orb all provided hinst as to where I wanted to go.
ISDN
ISDN is a music album by experimental electronica artists The Future Sound of London which was released in two different versions in 1994 and 1995. The music on the album is edited together from various live broadcasts that the band had broadcast to radio stations all over the world using ISDN, which at the time was a relatively new technology. The band repeated the format in 1997 with the limited edition ISDN Show, another live album of ISDN broadcasts. Stylistically, the record features some of the ambience of their previous work, but brings in elements of hip-hop, trip-hop and acid jazz
To Render or Not
Although I dove into music production in 97 I was so lost. Months of study and trial and error for hours every day yearned little. My mistake was I was trying to write a complete dj set not a single tune. But becase Iwas using mostly an extermnal sample and an old yamah synth, rewinding and forward would lose the instrument setting and I duidn't want to render because I wanted to tweak. Between ignorance and lack of amnything professional I was going around in circles until Acid.

Acid was first launched in 1998, as Acid pH1, by Sonic Foundry in Madison, Wisconsin. It was a loop-based music sequencer, in which Acid Loop files could be simply drag-and-dropped then automatically adjust to the tempo and key of a song with virtually no sonic degradation.
T-Racks - the Techbot Sound
The ultimate mix and mastering workstation from the creator of the first desktop mastering software -:- IK Multimedia invented T-RackS in 1999, marking the beginning of a new era by unleashing the power of a complete, affordable mastering software tool to everyone.

Since the day I first looked at what a mastering plugin might be, I have used T-Racks and only T-Racks. I place it on the master bus and compose my tune into the Main plugin suite. Instant 70's Less sub a brittle high, full bodied mids.

Sometimes i use Master Match to examine and compare but beyond that I don't do mastering.

Why?
The Medium is the Massage
The song that inspired Pierre Henrys greatest works
Blues Theme, Davie Allan and the Arrows (from 'the Wild Angels', 1966)
Messe pour le temps present [Henry's groundbreaking, much-sampled electronic soundtrack to Maurice Bejart's ballet] is directly inspired by Roger Corman's biker film The Wild Angels, because it seemed to me that the atmosphere of the film corresponded with Maurice Bejart's intentions when he asked me to write some jerks (dance songs) for a ballet based on the Nietzsche quote 'God is in the dance'. And my house inspired Interieur/ Exterieur (1996). I wrote the work for some concerts at my home. Every evening I played host to 50 people who were all seated in various rooms of the house, each of which was extremely wired for sound. It was a beautiful experience of proximity with the public.

My music is made for Livestreaming from my living room or my Livestreaming studio, (where I live). It has the power of being my home. The audience is both small and intimate (being the few people invited aound for tea) and large and anonymous: When I press play I have no listeners, by the end of the show I don't know how many listeners i might have. (added to how many might hear the show over the coming weeks)

I'm looking now at more preplanned ticket livestreams.